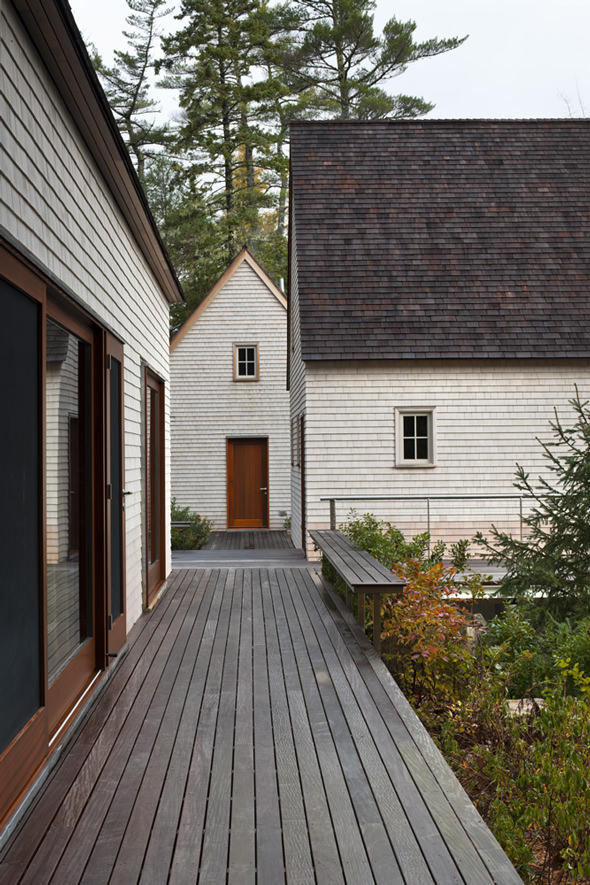 Photography courtesy of Elliot + Elliot Architecture.

Elliot + Elliot Architecture
Much like the work this project was inspired by, Edward Larrabee Barnes's Heckscher House, Pond House explores the boundary between the sheltered and the exposed; the expected and the incidental; and questions the relationship between traditional vernacular formal expression and modern life.
Inspired by local fishing shacks and wharf buildings dotting the coast of Maine, this project borrows from the typology and its relationship to the water but inserts large glazed openings into a taut shingled skin. This skin is incised to open views to the ocean beyond and relies on light steel framing and thin braces to preserve the simple forms eroded to open views to the ocean.
The three gabled cottages and the sheltering courtyard they create conceal the sweeping views and palisade they are perched upon. This study in contrast is made more apparent upon moving through and around each cottage where entire walls dissolve into views of the site, the water beyond and the moss carpeted forest. Each cottage acts as a filter for perceiving the natural landscape, as in Barnes' work, this juxtaposition can be at once sheltering and intimate while stark and exposed. Absent of detail the cottages rely on light and simple texture to render changes in weather, season and light.
The boundary Pond House straddles is one that Barnes explored often. Maintaining this balance requires an intimate knowledge of both conditions and a resultant architecture that amplifies the fundamental attributes of each.
Elliott + Elliott Architecture
PO Box 318
Blue Hill, ME 04614