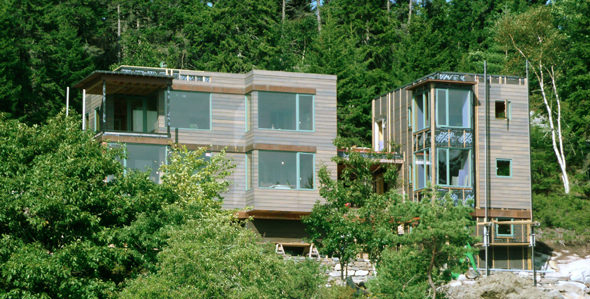 Photograph courtesy of Theodore + Theodore Architects.
Long Island House
Located on an island near mouth of the Kennebec River, the house faces south with views of the Atkins Bay, Fort Popham and the ocean. The main house and guest house are connected by a screen porch which frames initial views of the water. The flat roof acts as a water collector, and will also be covered with solar electric panels mounted on angled frames. The top roof deck will also be used as a terrace and green roof.
All materials were brought by water and landed on the roof beach below .The steel frame sits directly on feldspar ledge. A bridge at the second floor connects to the hill that rises behind the house. The house is approached from the riverside and the land.
The interior is a combination exposed fir beams and spruce decking at the ceiling and wood panels on the walls. The exterior is clad in cedar boards and copper.