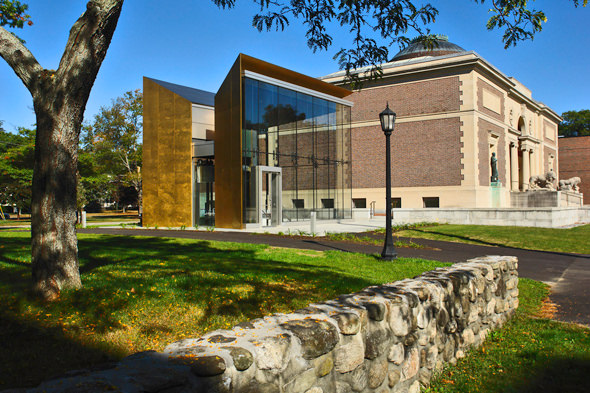 Photograph courtesy of Machado & Silvetti Associates.
Bowdoin College Art Museum Renovation & Addition
Bowdoin College holds one of the oldest collegiate art collections in the country, dating from 1811 when James Bowdoin III, bequeathed his collection of European paintings and Old Master drawings to the College. The collection's first official home was a small gallery, fitted out in 1850, at the rear of the campus Chapel. In 1891, Mary and Harriet Walker endowed the construction of a freestanding museum building worthy of the collection. The result was the historically significant Walker Art Building, which was designed by Charles Follen McKim of McKim, Mead and White, and dedicated in 1894.
While the 19th-century Walker Art Building symbolically projected Bowdoin's continued commitment to the arts, it did not provide the space or technical amenities required of a 21st-century teaching museum. In November of 2003, after three years of evaluating the Museum's physical needs and refining its programmatic vision, Bowdoin hired Machado and Silvetti Associates to develop designs for the building renovation and expansion.
The design addresses new program needs, necessary code and accessibility upgrades and incorporates state of the art security and climate control systems to meet current museum standards. A dramatic glass, bronze and blackened steel pavilion on the south side of the original building provides a new entry to the expanded museum from the town of Brunswick to the West, and the Bowdoin College quad to the East. This six hundred square foot pavilion houses a gracious new steel and stone stair and glass elevator which lead down to visitor service spaces and a new lower level gallery entrance.
A larger addition on the west side of the historic structure houses seven new galleries, including a dedicated seminar room, and includes an upgraded loading facility and high capacity elevator as well as a new public stair connecting upper and lower gallery spaces. To support the teaching mission of the museum, the design of the 33,500 square foot project provided a highly efficient administrative office wing and high-density archival storage spaces. The restoration of the Walker Art Building included structural and waterproofing upgrades as well as new gallery lighting, signage and the insertion of state of the art mechanical systems within the historic building envelope.