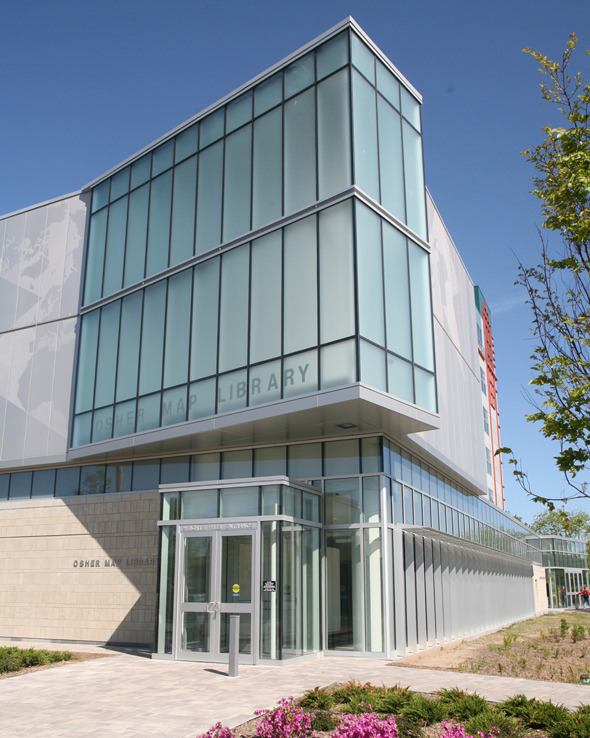 Photograph courtesy of Koetter Kim & Associates.
Osher Map Library
Located at the corner of Forest Avenue and Bedford Street, the Osher Map Library is the signature building that announces entry into the campus of the University of Southern Maine. This building, together with the Wishcamper Center and the existing Abromson Center, provides a cohesive edge to Bedford Street. Through massing, selection of materials, and architectural detailing, these buildings create a new and exciting image for the school.
The Osher Map Library is an archival storage facility designed to preserve and protect a world renowned collection of maps, globes, and related documents. It is unusual in that its mission is not only the preservation of these valuable artifacts but also to provide outreach and education of the public at large. Students of all ages will be able to visit the facility and learn about the history and discipline of mapmaking through exposure to actual examples.
The materials and organization of the facades are designed to reflect that of the adjacent Wishcamper Center. There are, however, major differences in the programs of the two buildings. While the Wishcamper Center houses classrooms, meeting rooms, and offices, the primary function of the Osher Map Library is to safely store valuable and sensitive artifacts. Accordingly, the facades of the upper two levels of the structure are essentially a vault sheathed in aluminum panels. The panels are etched in an abstract pattern based on the Dymaxion map projection of Buckminster Fuller. The corners of the building are terminated by light towers that continue the abstracted geometry of the maps.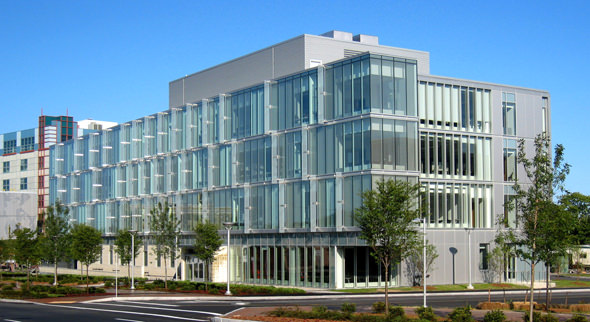 Photograph courtesy of Koetter Kim.
Wishcamper Center
The Wishcamper Center is an office and classroom building for the Muskie School of Public Service and The Osher Lifelong Learning Institute, which occupy the first building to be constructed on the University Commons site. The Osher Map Library is the second phase of the project. The final phase of the University Commons project has not been determined.