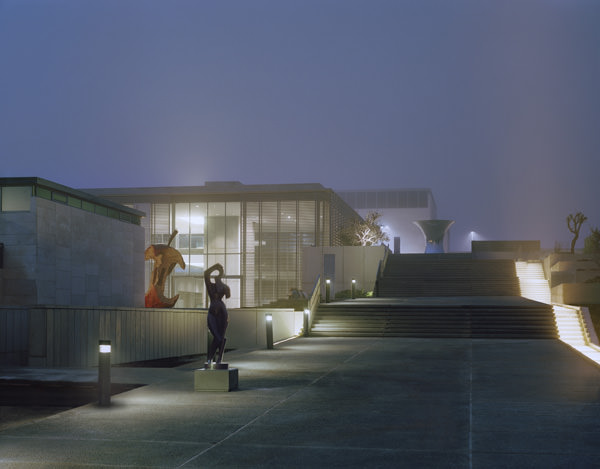 Photography courtesy of James Carpenter Design Associates.

James Carpenter
Having led a glass workshop with Dale Chihuly at Haystack in 1969, I was inspired by Edward Larrabee Barnes's architecture and its deep connection to the landscape and site. His ability to weave the campus into the fragile granite and moss ecology while elevating it slightly above the landscape created this great sense of levitation amongst the trees. This synthesis of nature and architecture orchestrates the school's activities within its remarkable and dramatic context. The visiting artists are presented with a heightened sense of observation of the natural surroundings and this is something that my own work, even in the most urban context, has been focused on for over 40 years.
In 1985 I worked directly with Ed, creating a window sculpture within the chapel of his Christian Theological Seminary in Indianapolis, Indiana. The simplicity of his geometry and the clarity behind it could fully engage with the cinematic traits of my work and the inherent complexity of the natural world. We created a structural glass window consisting of 32 foot high glass blades stabilized with horizontal panels of dichroic glass. The window's simple geometry generates a remarkable complexity that changes over the course of the day.
The parallel between Ed's Haystack and our recent expansion of the Israel Museum Jerusalem is self evident. Like the Haystack site, the museum features a dramatic rise in elevation, a dispersed arrangement of modules organized along a singular axis and remarkable natural surroundings. With this museum we added a stair-free belowground Route of Passage to moderate the incline while inserting a light slot along its length. A cast glass water feature above activates the light that penetrates the slot while etched glass panels along the passage capture the activity providing a sense of the extraordinary landscape above.
Ed's work has been instrumental to my own design and architecture integrating the experience of nature through phenomenal light into every aspect of architectural design.
James Carpenter Design Associates Inc.
145 Hudson Street
New York, NY 10013